Unexpected contributions jump start offense
3 min read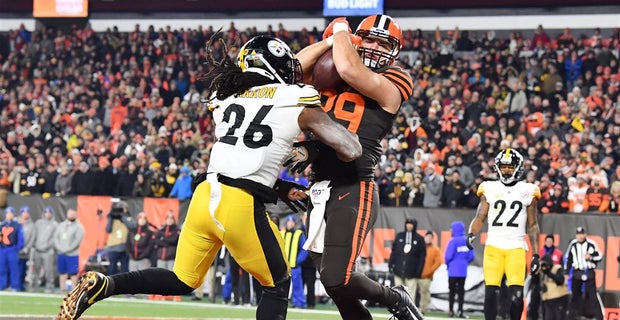 CLEVELAND, Ohio — For the most part, injuries during an NFL season are unavoidable. A nasty byproduct of a vicious game. Usually injuries are random in nature and striking at any point from June through January.
They don't discriminate team to team and they don't hold a bias. They just happen – for lack of a better phrase. But the best franchises in the NFL scout well enough to have the necessary depth waiting for their chance. Cleveland has shown some of that favorable depth in 2019.
David Njoku was lost in Week 2 to a broken wrist and it immediately challenged the Browns tight end depth. Demetrius Harris, Ricky Seals-Jones, and Pharaoh Brown have all three played a nice role for the Browns offense. The trio has only combined for 272 yards on 21 catches but the red zone usage is particularly interesting as the Harris and Seals-Jones each have two touchdowns.
When injuries struck the group over the last few weeks, another tight end was needed to make the Browns usage of 12 and 13 personnel possible. In stepped Stephen Carlson.
Carlson, a rookie out of Princeton, signed with the Browns as an undrafted free agent in May and spent the entire season on the practice squad. At Princeton, Carlson was a nice receiving target whose market share stood out. He recorded 125 receptions for 1,632 yards and 16 touchdowns.
In camp, Carlson felt overmatched at a new level but he did have flashes of quality hand-eye coordination and the ability to make difficult catches. He flashed that ability on Sunday in only his second NFL target, and a massive moment in the game.
Running a similar scheme used earlier in the game down in the red zone, Freddie Kitchens sent Carlson on a deep dig while two shallow crossers worked the short areas of the field. In the first rep, the Steelers showed the man to man coverage they would later use. It left linebacker Mark Barron face-guarding Carlson in the end zone. Mayfield worked through a muddied pocket to give Carlson a chance against the blind side of Barron.
Unfortunately for Carlson, this heroic play, when the Browns needed it most, was overshadowed by the theatrics that concluded the evening and dominate headlines nearly a week later. The play deserved more press.
While Carlson has shown he can make plays like these on the football, his blocking remained a mystery. Using him in the wide in-line alignment or in the tight wing, Kitchens has tasked Carlson with handling wide ends or outside linebackers via wide zone or pulling in split zone schemes.
In 32 run blocking assignments this year, Carlson has only a 53.9 mark from Pro Football Focus but he has held his own against tough assignments. He has also pass protected well in a small sample size with a 72.3 score.
It's unclear whether Carlson will be a long-term part of things for the Browns offense, but with Mayfield's love for tight ends when the field shrinks deep opponent's territory, and Carlson flashing ability to make tight window catches, there could be a match. All four tight ends on the roster dressed on Thursday night, but with Njoku returning soon, we will quickly get a feel for how the Browns feel about Carlson. One of the tight ends currently on the 53-man roster will be the odd man out.
Carlson has made a strong case to remain in the fold.

https://247sports.com/nfl/cleveland-browns/Article/Stephen-Carlson-impacting-to-Browns-offense-138851664/