NFL Overturns Fine on Baker Mayfield
2 min read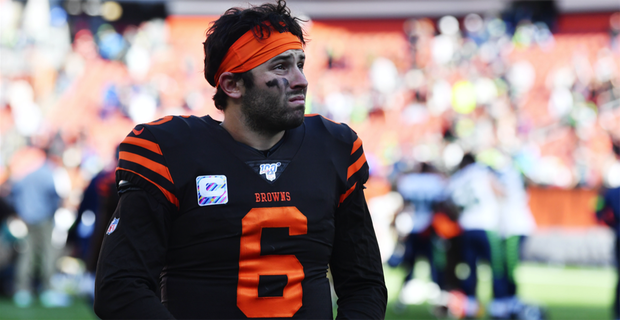 On October 13, Baker Mayfield made the mistake of stating what he (and many Browns fans) felt was the truth about officiating during the Browns loss to the Seahawks. It cost him $12,500 as the NFL levied a fine for his remarks.
"The refs are never an excuse", Mayfield told the media, "It was pretty bad today".
Mayfield specifically used the example of a crucial play where officials called a blindside block on WR Jarvis Landry. Replays made it obvious that Seahawks S Marquis Blair was facing Landry when the block was made.
The penalty was brutal to the Browns' chances, turning a third-and-nine in their own territory into a second-and-22.
After being fined, Mayfield stood firm (and was not fined again): "People have to be held accountable for their jobs" he said, "When it affects my job, it sucks because it's not in my control."
Surprisingly, however, the fine has been overturned on appeal, per Jake Trotter of ESPN:
Baker Mayfield's $12.5K fine for criticizing officiating after the Seahawks game has been overturned after he won his appeal, per source. Criticism deemed not strong enough to warrant the fine.


— Jake Trotter (@Jake_Trotter) November 18, 2019
With all that's been happening to the team, a $12,500 fine doesn't seem like a big deal, but it's nice to see the league acknowledge that the criticism wasn't too strong given the events of the day.
No word from the NFL on whether the Browns loss to the Seahawks will be overturned. We're guessing "no".

https://247sports.com/nfl/cleveland-browns/Article/Cleveland-Browns-Baker-Mayfield-Officiating-Fine-138827207/